A wife sent screenshots of chats she had with her husband's side chick to relationship expert Joro Olumofin, according to her, her husband's side chick reported her cheating husband after she got cheated on.
The side chick further told the lady to warn her husband to stop disturbing her, after he cheated on her with her two friends. She also shared screenshots of messages between her and the man who was begging her not to leave him,while claiming to be managing his wife.
This has totally made the woman feel worthless as she does not know what to do to her husband or with her husband. Although she had initially suspected him  but did not have any proof against him.
It is obvious that her husband's infidelity is gone past the level she may have imagined. Since he can plead with a side chick to stay and still be frolicking with other girls. Wonders of what else he may be doing will prick her.
She revealed that she has asked her sister to help with advice on what she can do now but she still wants a general help from every married woman with or without the experience. Read her story below:
"I received a chat from  a girl this afternoon claiming to be sleeping with my husband. I was always suspecting him of cheating but i never had proof and he has been so sweet to me and the kids. The painful part was how this girl spoke to me.
I feel so low, worthless, I have been drinking and drinking. I have called my sister to help me think but I can't tell my mom. She will blow it out of proportion. Joro!!!!!!! My husband was begging this girl, begging her! she said he cheated on her.

Aran ro mi! O ti sun mi. He telling her he loves her. He doesn't want me. We have been married for 5 years and now this. I am too weak to type. Please I need public opinion before I do something stupid.
Drop your number! Please! I need to hear from married women who have been through these. Joro please contact me ASAP! He hasn't come home. I'm suspecting he k nows  something."
This is to all married women, please share your thoughts on this and advice on what she can do.
See photos of chats below: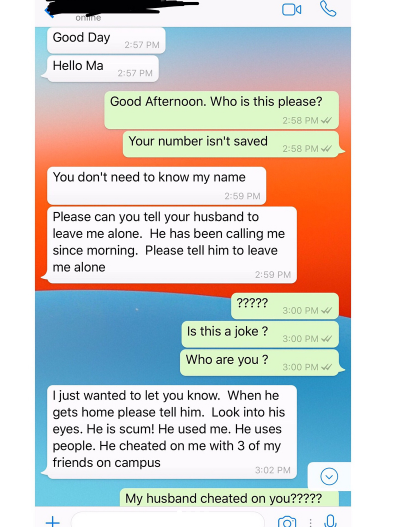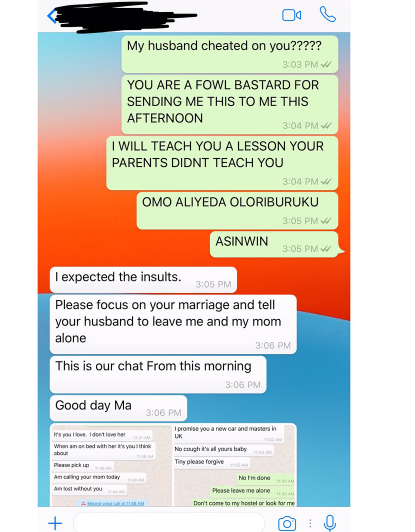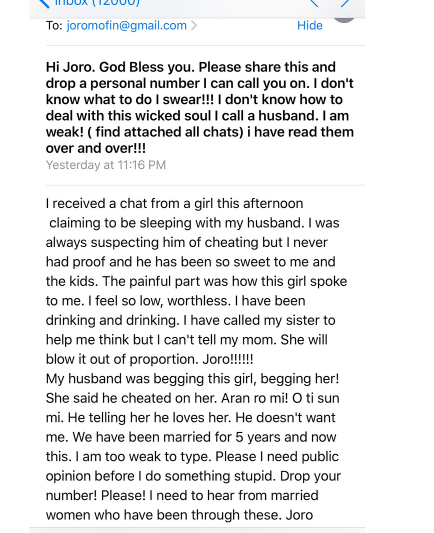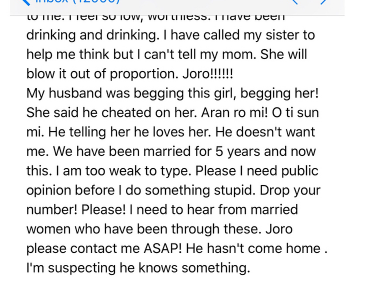 Wow!